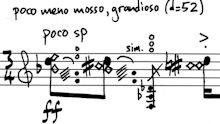 Imagine submitting an academic portfolio that includes such courses as Beginning Chinese from Peking University, Fundamentals of Music Theory from the University of Edinberg's prestigious Reid School of Music in London, England, Calculus One from Ohio State University, or Social Entrepreneurship from Copenhagen's School of Business. Coursera.org, an education forum that provides universal access to the world's best education by partnering with top universities and organizations, brings those imaginings to real life.  This summer, consider online courses from prestigious universities such as Columbia University, Duke University, John Hopkins University, The Wharton School at the University of Pennsylvania, and lots more. To find Coursera on Facebook, click here.
AP Students can apply these courses to their capstone projects or earn specialized certifications. Many of these courses are on a semester schedule with start and stop dates coming up soon. Others such as Beginning Chinese and Calculus One, are self-paced. Although all courses are free, some of the colleges or universities may charge a fee for capstone credits or certification, so do your homework. Either way, this is a wonderful alternative study avenue for the progressive homeschooler. The endless opportunities are available, either free or low-cost, and they provide a darn good way to boost your college portfolio with certification from some of the top institutions in the world.
Know the lingo:
capstone: capstone projects involves identifying an information problem in a real-world setting and developing the means to address it. They can be research-oriented or design-oriented. Solutions are typically interactive, meaning the end product is something that can be implemented and used. There is a nominal fee (as low as $29.00) for capstone materials and credit.
AP (Advanced Placement): a program in the United States and Canada, created by the College Board, which offers college-level curricula and examinations to high school students. American colleges and universities often grant placement and course credit to students who obtain high scores on the examinations. Homeschoolers can also qualify.
Signature Tracks: My guess this is how Coursera makes their money. While the courses are free, the Specialized Certificates of Completion (Signature Tracks) are not.

However, this isn't a bad thing if your objective is to become a student standout with a rich portfolio that demonstrates your efforts to learn outside of the box.

Specialization Certificate : an electronic document issued by the participating school and Coursera that demonstrates successful completion of a group of related courses (plus a Capstone Project) in a specific subject. It also links your accomplishment to your real identity with Signature Track.
Coursera offers about 500 classes. About 200 of those offer specialized tracking and capstone. If you are looking for a unique boost to your college portfolio, this might work for you. I will definitely be offering Coursera to my homeschoolers next fall.
Want more? Visit our website. 
TAMS and ED stands for Technology, Language Arts, Math, Science, and Education. We provide a tough yet achievable home school for students who need personal attention in a safe home environment. We utilize a number of cross-curricular teaching tools including standard textbooks, computers and technology, academic excursions, and hands-on learning. Our qualified Board of directors consist of certified educators, parents, and administrators who are passionate about challenging every child to reach for the academic stars.
We promote diversity and tolerance in a safe learning environment. For TAMS and ED students, the world is their classroom. Come and join us!
Felicia Moon-Thomas, Director